Creams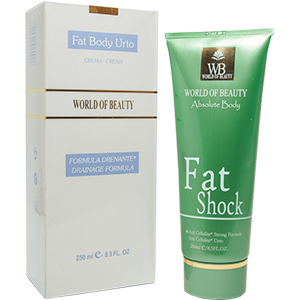 FAT BODY SHOCK BURNER
250 ml.
Fresh stem cells body cream
Key Actions:
Increase visibly lupolisis, refining body countour. Minimizes 'orange peel' skin's appearance. Softens and smoothes skin. Natural thermogenic action. Accelerates breaking down of lipids. Recommended in case of thyroid influence.
Key ingredients: Fresh Stem cell's complex extracted from Eucalyptus and European white time helps skin's immune defense system, while acting reducing lipids volume. Slim Complex and clary sage extract soften and smoothes skin's texture, minimizing 'orange peel' appearance and minimizing painful cellulite's sensation. Italian purified thermal water purify and detox skin, giving a visible, long and lasting drainage, acting against cellulite formation.