Body Applicator Wraps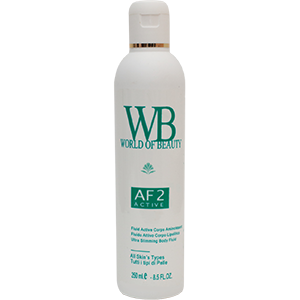 FLUIDO ATTIVO AF 2
250 ml.
Essential oils of Coriander, Ginger, Marjoram, Cinnamon, Thyme, Tocopherol.
Act:
Liquid lipolytic emulsion. Activates peripheral microcirculation, increases local body temperature, increases oxygen flow to the skin, promotes acceleration of lipolysis.
Accelerates the absorption of AF1. The effect is achieved by increasing the local temperature, which contributes to a faster and more efficient penetration of the previously applied Active Fluid AF 1.
Coriander oil improves metabolic processes in the body. Ginger Oil - a powerful anti-inflammatory and antibacterial agent, has anti-edematous effect. Thanks to the essential oils of Cinnamon and Marjoram, oxygen influx to tissues is increased, peripheral blood circulation is activated, muscle tissue warms up, metabolic processes are normalized, preventing accumulation of fat. Oil of Thyme is an active anti-inflammatory component with a powerful drainage effect, it smooths out the relief of the skin.
It is recommended to use in combination with the fluids AF 1 and AF 3.
It is used in the following procedures:
AF fat removal
Mixed cellulite
Edematous cellulite
Solid cellulite
General drainage
Therapeutic drainage
Treatment of arthropathies