Body Applicator Wraps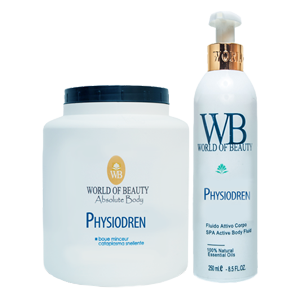 PHYSIODREN
Your best ally for:
- a shock draining action
- reducing lymphostasis
- Ice Therapy
Packaging: Profesional 500ml, 250ml
An active Fluid and shock Cataplasm, highly recommended for an express body treatment against oedematous cellulite flaws, lymphostasis and problems in the venous blood circulation. It carries out a shocking ice therapy that reduces stagnation of liquids and toxins.
Active Key Principles
Curcuma Longa: pure active principles which carries out a remarked anti-oxidant and immune-stimulating action.
Menthol Vegetal Complex- Aescin and Fresh Extract of Mauve: Extract rich of galacturonic acid, malvine, malvidin, vitamins A, B1 and C, it carries out an effective action in protecting blood vessels and it is also extremely emollient.
Professional Method Body Beauty:
Apply locally on body target areas, previously prepared with Aura
Elixir and massage Prana, 2-5ml of Active Fluid Physiodren until it gets completely absorbed, follow with the application of Physiodren Poultice, using a knob of product. Realise a 10 min manual drainage, re- apply the same quantity of Poultice, cover with a cartene foil, and leave it on for 30 minutes.
When applied, it can be combined with pressotherapy. Frequency of Treatment: twice per week.