Creams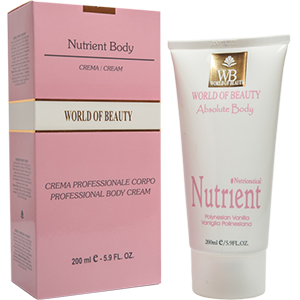 Body Cream Nutrient
200 ml.
Anti Age body repair
Key actions:
Keep skin's texture look younger and more elastic. Inmediate skin replenishing benefits. Give a long and lasting softer and smoother look to skin. Minimize and prevent stretch marks. Give to skin a silky feeling. Maintain moisture and nutrition.
Key ingredients:
Fresh natural ulva-soy complex special anti irritant complex, boosts skin's collagen production, reinforcing skin's own defense.
Bglucans vegetal complex exhilarant skin's fortifying active ingredient. Reinforce skin's immune defense and its supportive capillary network for a smoother and firmer appearance.
Jaluronic Acid Complex helps skin's own metabolism to maintain ideal moisture level; relieve dry skin to keep it perfectly moisturized.