Olga Ramyekur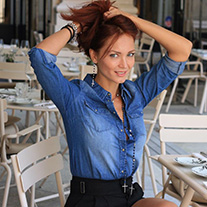 I got acquainted with Lida on distance, through a mutual acquaintance, we sent each other messages on the Internet, and then she is already in Paris!!!
Even by correspondence in WhatsApp I realised that this fragile blonde perfectly knows what she wants. Lida came to Paris for shopping and to have some entertainment! It is nice to work with her — she respects other person's opinion, and we bought new cloths in one breath.
Lida is a very disciplined and, at the same time very balanced person able to adapt quickly to any situation and to find a common language with everyone. She is sincere, tolerant and demanding to herself and others, open to experiments but with a strong spirit inside.
One can say that she is transforming herself without changing herself!!! As she tells herself, it is necessary to define right priorities, to set a goal and to move towards it. You will succeed!!! She always achieves a success: to have proper breakfast in Cafe de Flore, change the cloths, be the most fashionable by the new season, take a walk along the Champs Elysees, see Paris from a bird's eye view and taste the darkest chocolate of Alain Ducasse!